Solar-powered shape-changing origami microfliers
---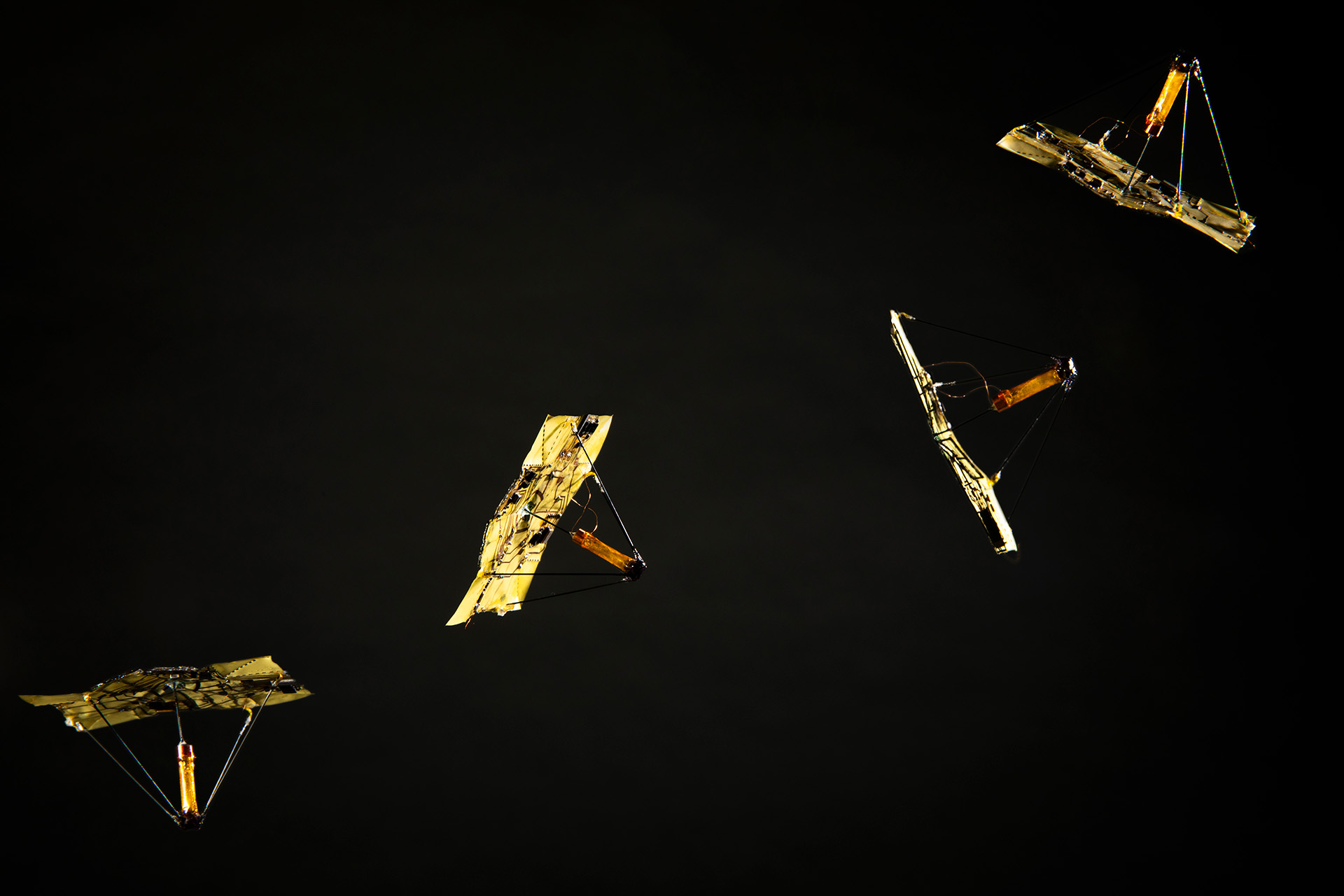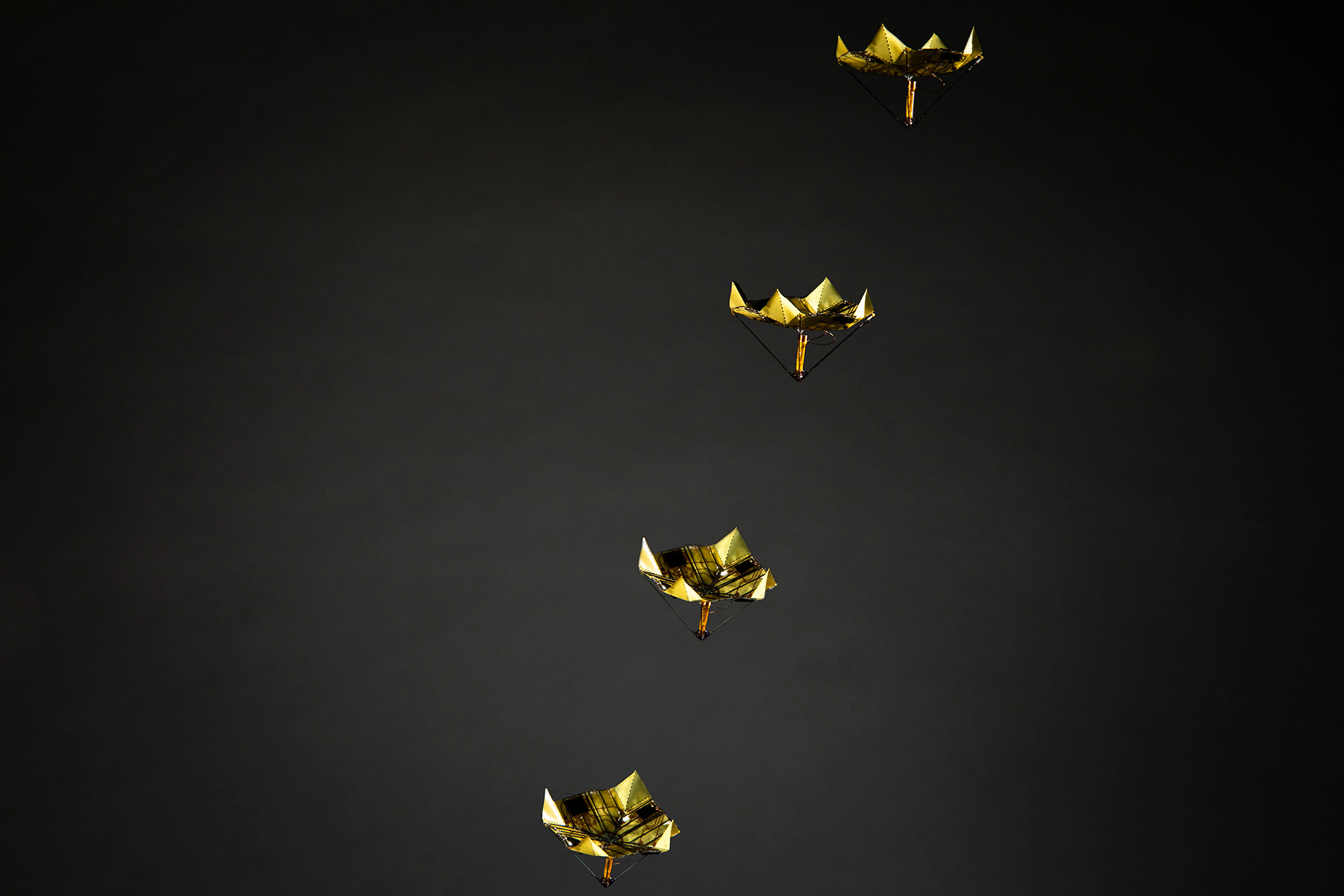 Using wind to disperse microfliers that fall like seeds and leaves can help automate large-scale sensor deployments. Here, we present battery-free microfliers that can change shape in mid-air to vary their dispersal distance. We design origami microfliers using bi-stable leaf-out structures and uncover an important property: a simple change in the shape of these origami structures causes two dramatically different falling behaviors. When unfolded and flat, the microfliers exhibit a tumbling behavior that increases lateral displacement in the wind. When folded inward, their orientation is stabilized, resulting in a downward descent that is less influenced by wind. To electronically transition between these two shapes, we designed a low-power electromagnetic actuator that produces peak forces of up to 200 millinewtons within 25 milliseconds while powered by solar cells. We fabricated a circuit directly on the folded origami structure that includes a programmable microcontroller, Bluetooth radio, solar power harvesting circuit, a pressure sensor to estimate altitude and a temperature sensor. Outdoor evaluations show that our 414 milligram origami microfliers are able to electronically change their shape mid-air, travel up to 98 meters in a light breeze, and wirelessly transmit data via Bluetooth up to 60 meters away, using only power collected from the sun.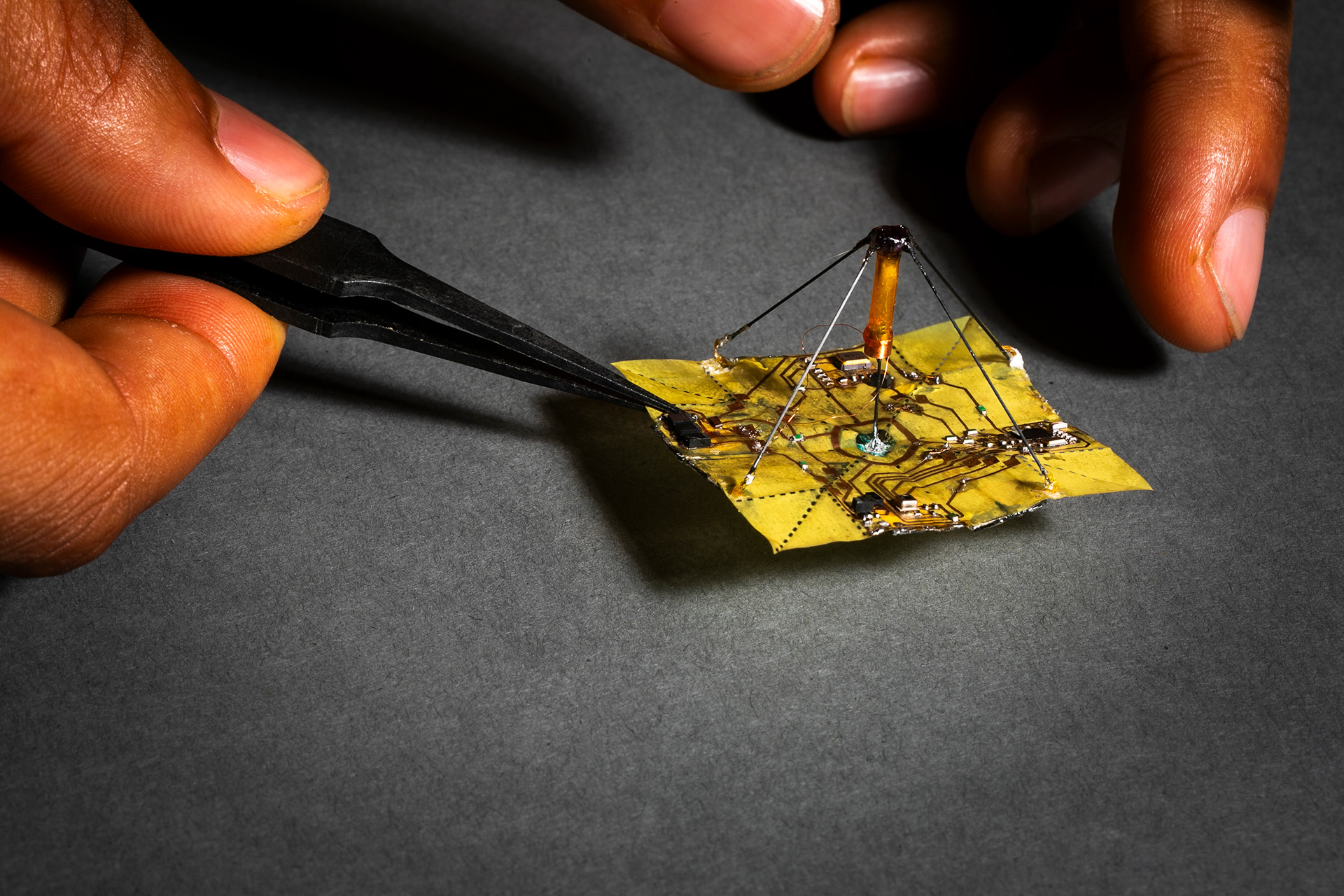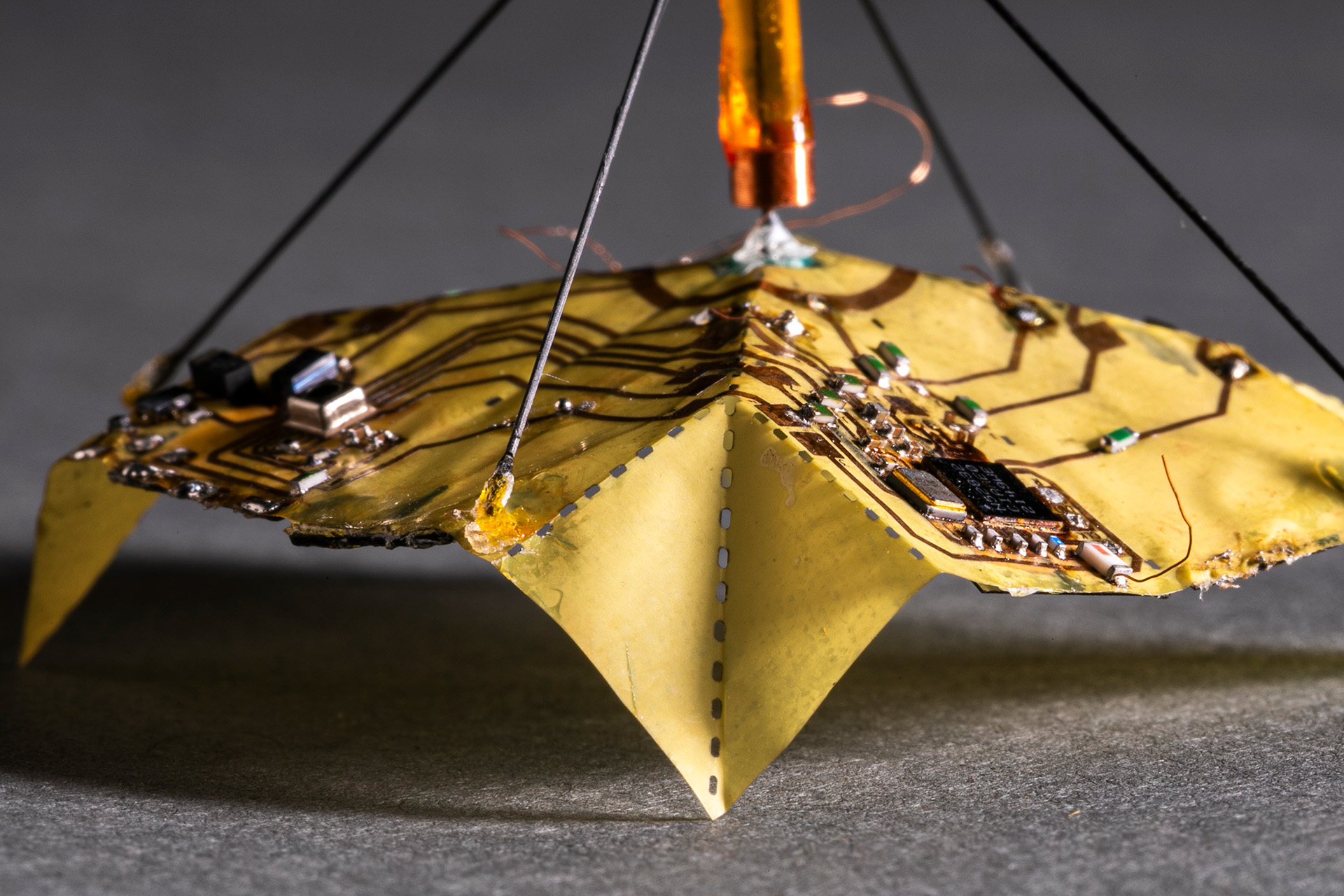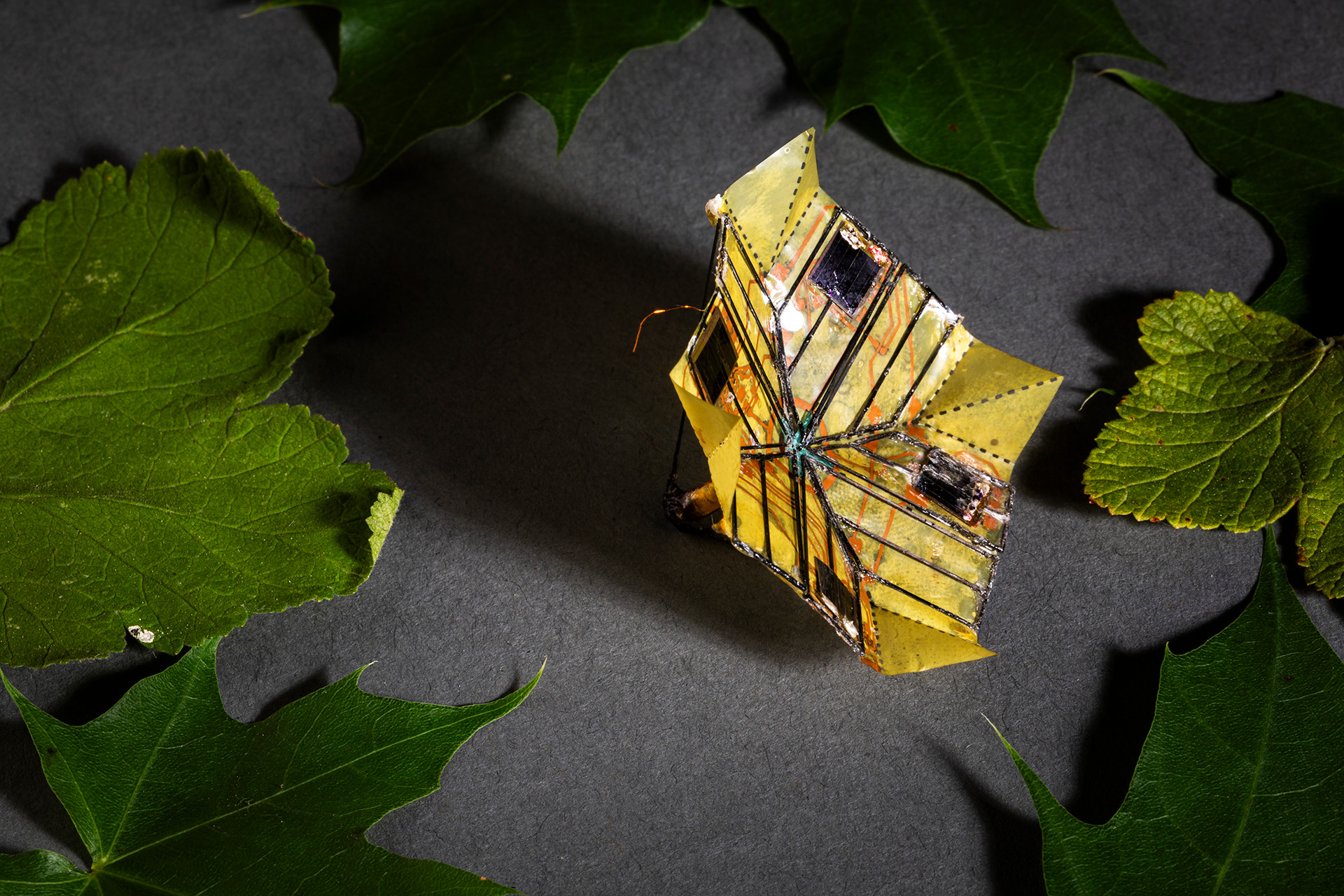 Links
Data and code
Press release (short)
Press release (extended)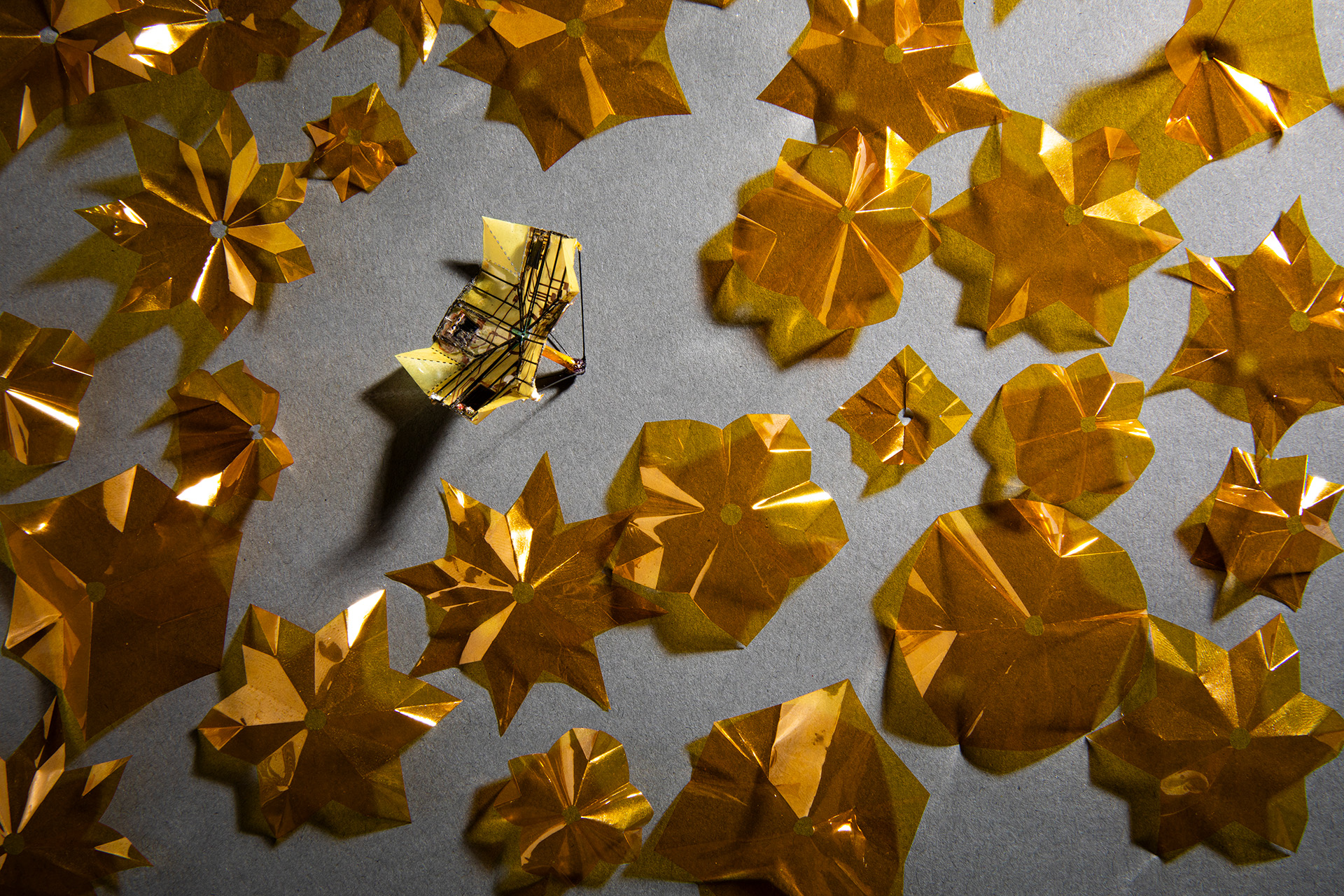 Photo Credits: Mark Stone/University of Washington
Battery-free microfliers take flight
Tiny microfliers can be used to monitor how temperature, lighting conditions or other environmental factors vary across atmosphere as they descent. A network of such microfliers could help researchers paint a picture of what's happening for different applications, including digital agriculture and monitoring climate change. The idea of microfliers, battery-free sensing devices that can fly in the wind mimicking leaves and seeds but also control their descent, has been a longstanding vision in both the scientific community and popular culture. Despite decades of work since proposals of "smart dust" and advances in specific technologies toward this vision, researchers have faced many challenges in developing fully functional microfliers that harvest ambient energy like sunlight and use it to control their descent. This is because devices like motors that provide lift and control for drones are large and heavy, and even small insect-inspired wings are challenging to operate on the energy small solar cells can harvest. In this work we take a different approach with the key idea of using the unique properties of origami structures to create battery-free origami microfliers that can change their shape in mid-air to switch from a chaotic tumbling fall to a straight downward descent.
This approach opens up a new design space. For example, could we achieve finer grained control by switching back and forth between the states? Can we develop strategies to control their direction and land in precise locations? control descent and make these devices land in precise locations by switching back and forth between the states? We hope this work is the first step towards a future vision for creating a new class of fliers and flight modalities.
Instructions to fold your own